Fatima (2020) 1080p BluRay x265 HEVC 10bit AAC 5.1-Tigole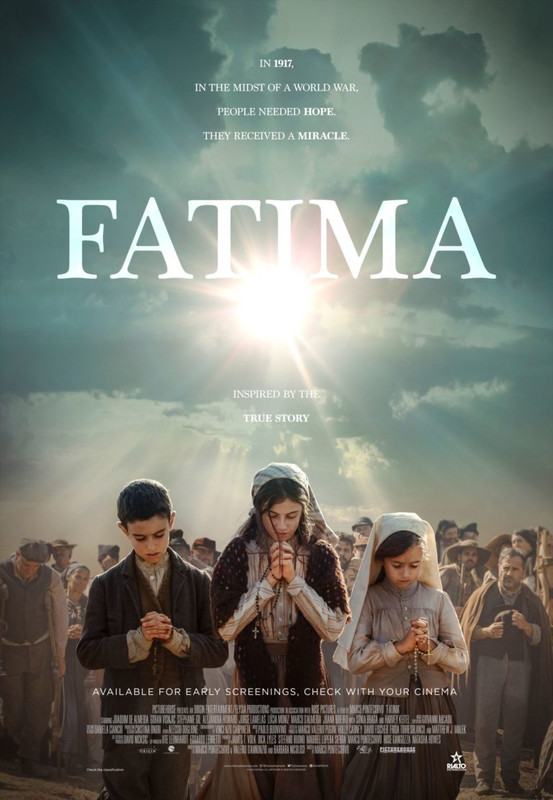 Genres: 
Drama
, 
War
 | Language: English
5.9 GB | 1 hour 52 min | x265 | 1080p | MKV | Including Extras
A powerful and uplifting drama about the power of faith, this movie tells the story of a 10-year-old shepherdess and her two young cousins in Fátima, Portugal, who report seeing visions of the Virgin Mary. Their revelations inspire believers but anger officials of both the Church and secular government, who try to force them to recant their story. As word of their prophecy spreads, tens of thousands of religious pilgrims flock to the site in hopes of witnessing a miracle. What they experience will change their lives forever.
General 
: Matroska / 5.76 GiB / 1 h 52 min / 7 301 kb/s
Video 
: HEVC / Main 
[email protected]
@Main / 6 892 kb/s / 1 920 pixels / 804 pixels / 2.40:1 / 24.000 FPS / *Default
Writing library : x265M - 3.4+35-772bb4c84:[Windows][GCC 10.2.0][64 bit] 10bit
Audio 
: AAC LC / 402 kb/s / 6 channels / English / *Default
Subtitle #1 
: UTF-8 / 42 b/s / English
Subtitle #2 
: VobSub / 7 383 b/s / German
Director:
Marco Pontecorvo
Producers:
Marco Pontecorvo, Natasha Howes, James T. Volk
Starring:
Joaquim de Almeida , Goran Visnjic , Stephanie Gil
IMDB:
6.6/10 | 
URL: 
https://www.imdb.com/title/tt2197936/
Download Links:
https://rapidgator.net/file/16b992c098334cc616e464577b5dd4ed/Fatima.2020.1080p.BluRay.x265.HEVC.10bit.AAC.5.1-Tigole.part1.rar.html
https://rapidgator.net/file/24a8ee97c4379ca1a3daf1685febf926/Fatima.2020.1080p.BluRay.x265.HEVC.10bit.AAC.5.1-Tigole.part2.rar.html
https://rapidgator.net/file/56d4622aa954815694ba0a0b156b5091/Fatima.2020.1080p.BluRay.x265.HEVC.10bit.AAC.5.1-Tigole.part3.rar.html
https://rapidgator.net/file/d3dee4f609daf4f976a593cefa312648/Fatima.2020.1080p.BluRay.x265.HEVC.10bit.AAC.5.1-Tigole.part4.rar.html
http://www.filefactory.com/file/5s5bu0ba1ssu/n/Fatima.2020.1080p.BluRay.x265.HEVC.10bit.AAC.5.1-Tigole.part1.rar
http://www.filefactory.com/file/2kidbk8jdo7m/n/Fatima.2020.1080p.BluRay.x265.HEVC.10bit.AAC.5.1-Tigole.part2.rar
http://www.filefactory.com/file/22ia98pl94ls/n/Fatima.2020.1080p.BluRay.x265.HEVC.10bit.AAC.5.1-Tigole.part3.rar
http://www.filefactory.com/file/c3fkw6tigva/n/Fatima.2020.1080p.BluRay.x265.HEVC.10bit.AAC.5.1-Tigole.part4.rar
https://nitro.download/view/2BC742B1927758F/Fatima.2020.1080p.BluRay.x265.HEVC.10bit.AAC.5.1-Tigole.part1.rar
https://nitro.download/view/BC2E865707D8469/Fatima.2020.1080p.BluRay.x265.HEVC.10bit.AAC.5.1-Tigole.part2.rar
https://nitro.download/view/5A49EED79BB172F/Fatima.2020.1080p.BluRay.x265.HEVC.10bit.AAC.5.1-Tigole.part3.rar
https://nitro.download/view/4E2FDAF123B47EC/Fatima.2020.1080p.BluRay.x265.HEVC.10bit.AAC.5.1-Tigole.part4.rar
Note:
Only Registed user can add comment, view hidden links and more, please register now