Archive (2020) 1080p BluRay x265 HEVC 10bit AAC 5.1 - Tigole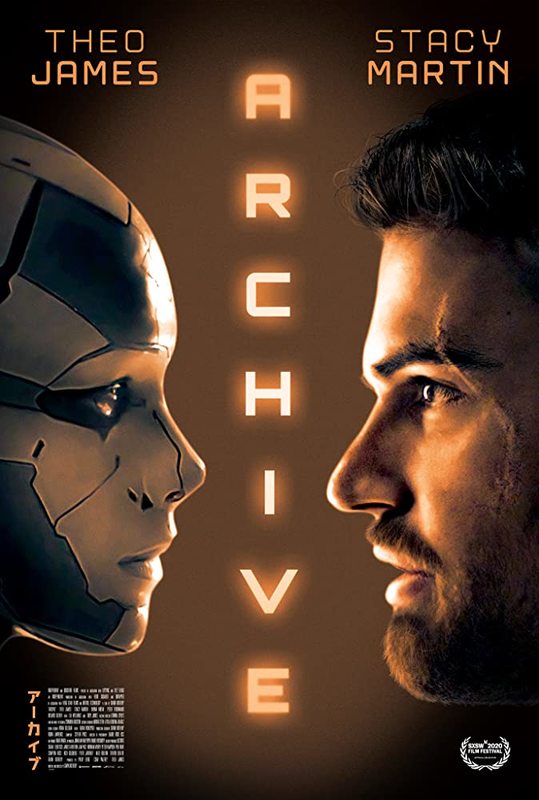 Genres: 
Drama
, 
Sci-Fi
, 
Thriller
 | Language: English
4.7 GB | 1 hour 49 min | x265 | 1080p | MKV | Including Extras
2038: George Almore is working on a true human-equivalent AI. His latest prototype is almost ready. This sensitive phase is also the riskiest. Especially as he has a goal that must be hidden at all costs: being reunited with his dead wife.
Video 
: HEVC / Main 10@L4@Main / 5 499 kb/s / 1 920 pixels / 804 pixels / 2.40:1 / 23.976 (24000/1001) FPS / *Default
Writing library : x265 3.2+23-52135ffd9bcd:[Windows][GCC 9.2.0][64 bit] 10bit
Audio 
: AAC LC / 458 kb/s / 6 channels / English / *Default
Subtitle #1 
: VobSub / 9 207 b/s / English
Subtitle #2 
: VobSub / 6 211 b/s / Danish
Subtitle #3 
: VobSub / 7 078 b/s / Dutch
Subtitle #4 
: VobSub / 6 062 b/s / Finnish
Subtitle #5 
: VobSub / 7 160 b/s / French
Subtitle #6 
: VobSub / 6 802 b/s / Italian
Subtitle #7 
: VobSub / 6 544 b/s / Norwegian Bokmal
Subtitle #8 
: VobSub / 6 876 b/s / Spanish
Subtitle #9 
: VobSub / 6 618 b/s / Swedish

Director: 
Gavin Rothery

Box office:
139,593 USD

Starring:
Theo James , Stacy Martin , Rhona Mitra , Peter Ferdinando
IMDB:
6.3/10 | 
URL: 
https://www.imdb.com/title/tt6882604/
Download Links:
https://rapidgator.net/file/21c1f84ec1ef43ce64fe0a68faf1a8c0/Archive.2020.1080p.BluRay.x265.HEVC.10bit.AAC.5.1-Tigole.part1.rar.html
https://rapidgator.net/file/759c0ee004804d42e79587b4302df634/Archive.2020.1080p.BluRay.x265.HEVC.10bit.AAC.5.1-Tigole.part2.rar.html
https://rapidgator.net/file/9aab2b01882e3b48087a7a5f87e9e2e8/Archive.2020.1080p.BluRay.x265.HEVC.10bit.AAC.5.1-Tigole.part3.rar.html
https://rapidgator.net/file/a1ab46c8a892c33ba763a4b361b755b7/Archive.2020.1080p.BluRay.x265.HEVC.10bit.AAC.5.1-Tigole.part4.rar.html
https://rapidgator.net/file/de96b5ec58b96543df086ca010249844/Archive.2020.1080p.BluRay.x265.HEVC.10bit.AAC.5.1-Tigole.part5.rar.html
https://rapidgator.net/file/fc38449460f69a2a313900509ec6be6c/Archive.2020.1080p.BluRay.x265.HEVC.10bit.AAC.5.1-Tigole.part6.rar.html
http://www.filefactory.com/file/6fhrelu8kftk/n/Archive.2020.1080p.BluRay.x265.HEVC.10bit.AAC.5.1-Tigole.part1.rar
http://www.filefactory.com/file/4dxkimk1zc5e/n/Archive.2020.1080p.BluRay.x265.HEVC.10bit.AAC.5.1-Tigole.part2.rar
http://www.filefactory.com/file/1l2m1ht9qauy/n/Archive.2020.1080p.BluRay.x265.HEVC.10bit.AAC.5.1-Tigole.part3.rar
http://www.filefactory.com/file/4uy0lzqtvmsc/n/Archive.2020.1080p.BluRay.x265.HEVC.10bit.AAC.5.1-Tigole.part4.rar
http://www.filefactory.com/file/bgfje60uydy/n/Archive.2020.1080p.BluRay.x265.HEVC.10bit.AAC.5.1-Tigole.part5.rar
http://www.filefactory.com/file/2putaz2cflv0/n/Archive.2020.1080p.BluRay.x265.HEVC.10bit.AAC.5.1-Tigole.part6.rar
https://nitroflare.com/view/0B885A574B7D507/Archive.2020.1080p.BluRay.x265.HEVC.10bit.AAC.5.1-Tigole.part1.rar
https://nitroflare.com/view/51E1D7D39C34084/Archive.2020.1080p.BluRay.x265.HEVC.10bit.AAC.5.1-Tigole.part2.rar
https://nitroflare.com/view/1E7247E24C0CB69/Archive.2020.1080p.BluRay.x265.HEVC.10bit.AAC.5.1-Tigole.part3.rar
https://nitroflare.com/view/679FCE57C841F36/Archive.2020.1080p.BluRay.x265.HEVC.10bit.AAC.5.1-Tigole.part4.rar
https://nitroflare.com/view/7282510588B785D/Archive.2020.1080p.BluRay.x265.HEVC.10bit.AAC.5.1-Tigole.part5.rar
https://nitroflare.com/view/157A203BEDCF5F1/Archive.2020.1080p.BluRay.x265.HEVC.10bit.AAC.5.1-Tigole.part6.rar
Note:
Only Registed user can add comment, view hidden links and more, please register now