Mastering Cuban Coffee From Bean To Cup - A Complete Guide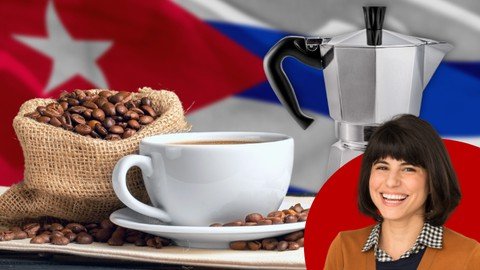 Free Download
Mastering Cuban Coffee From Bean To Cup - A Complete Guide
Published 6/2023
MP4 | Video: h264, 1280x720 | Audio: AAC, 44.1 KHz
Language: English | Size: 1.03 GB | Duration: 0h 48m
Explore Cuban coffee's history, its origins, and learn how to prepare the different methods and serve the perfect cup
What you'll learn
Learn the history of Cuban Coffee
Define the 4 main variations of Cuban coffee
Prepare the 4 main variations + other serving styles of Cuban coffee
Consume Cuban coffee in a traditional manner
Requirements
You will learn all the skills you need in this course.
Please prepare yourself with the list of ingredients and equipment such as: Cuban espresso, brown sugar, stove top espresso maker, milk, and frother (or machine to steam/froth milk).
Description
Did you know there are 4 variations to making Cuban coffee? Do you know about its cultural significance on the island? How about the different mug sizes for serving it? Are you aware of how delicious it is?Discover the Art and Culture of Cuban CoffeeImmerse yourself in the captivating world of Cuban coffee with this comprehensive course. From the rich history to serving methods, this course will take you on a journey through the enchanting traditions and flavors of Cuban coffee.With a positive attitude and a passion for learning, you'll unlock the secrets of Cuban coffee and develop a deep appreciation for its unique characteristics. Throughout the course, you'll acquire invaluable knowledge and skills, empowering you to become a Cuban coffee connoisseur.WHAT YOU'LL LEARN:Unveiling Cuban Coffee: Explore the captivating history and cultural significance of Cuban coffee, understanding its origins and evolution over time.Cultivation and Processing: Gain insights into the art of cultivating and processing coffee beans in Cuba, uncovering the meticulous techniques that contribute to its exceptional quality.The Four Variations of Cuban Coffee: Dive into the world of Cuban coffee variations, including the classic Café Cubano, Cortadito, Café con Leche, and the indulgent Colada.Mastering Brewing Techniques: Learn the step-by-step process of brewing each variation, mastering the art of Cuban coffee.Authentic Cuban Serving: Discover the cultural nuances and customs associated with serving Cuban coffee, from the traditional stove-top cafetera to the iconic colada window or standing cafe experience.Elevate Your Coffee Experience: Elevate your knowledge by exploring this corner of coffee expertise, specialty ingredients, and innovative twists on Cuban coffee recipes.Join a community of coffee enthusiasts and fellow learners as you embark on this exciting Cuban coffee adventure. Whether you're a coffee aficionado or simply intrigued by the Cuban coffee culture, this course is designed to satisfy your curiosity and leave you with the skills to brew and enjoy Cuban coffee like a true expert.If you don't know anything about coffee, it's okay! Tea drinkers... you're not excluded here since your instructor is also a tea fan and I'm confident you'll be curious to learn about Cuban coffee too.WHAT YOU NEED:A positive attitude and a willingness to learn new things is absolutely required for this course.Access to basic kitchen equipment like stove, microwave, containers for mixing, and potsCafetera (stove-top espresso maker)Cuban espresso (list of recommended brands available)Brown sugar (list of recommended brands available)Mugs of varying sizes (espresso shot, medium, large)Disposable espresso cups (optional) (extra points if you have Cuban style cups!)Cow's milk (can use alternative, but will yield different results)Evaporated milk (can use alternative, but will yield different results)Handheld milk frother / electric whiskLet the rich aroma and delightful flavors of Cuban coffee transport you to the vibrant streets of Havana, right from the comfort of your home. And if you're working on your next big business idea, through this compact course you'll gather the insights you need to make a rich espresso to keep you fueled, energized, and motivated. Enroll now and embark on a journey that will awaken your senses and immerse you in the delightful world of Cuban coffee. Viva el café cubano!IDEAL STUDENTS:Lovers of history and cultureCoffee and/or tea aficionados looking to branch outBeginners at coffee making in general or specifically to brewing Cuban coffeeTravel buffs interested in Cuba, its people, food, culture, and of course coffeeEntrepreneurs and business owners who want to add diversity to their coffee routine
Overview
Section 1: INTRODUCTION
Lecture 1 INTRO TO THE COURSE
Lecture 2 WHAT YOU CAN EXPECT
Section 2: WHAT'S THE DEAL WITH CUBAN COFFEE?
Lecture 3 HISTORY OF CUBAN COFFEE
Lecture 4 WHERE IS IT MADE
Lecture 5 WHAT MAKES CUBAN COFFEE UNIQUE
Lecture 6 CUBAN COFFEE VARIATIONS
Section 3: MAKING CUBAN COFFEE
Lecture 7 INGREDIENTS + EQUIPMENT
Lecture 8 CAFECITO - HOW TO MAKE IT (activity)
Lecture 9 CAFE CON LECHE - HOW TO MAKE IT (activity)
Lecture 10 CORTADITO - HOW TO MAKE IT (activity)
Lecture 11 EXTRA LECTURE - THE PERFECT ESPUMITA
Section 4: THE FINAL FRONTIER
Lecture 12 YOU DID IT!
Lecture 13 EXTRA LECTURE - SERVING STYLES AND OTHER VARIETIES
Coffee lovers eager to expand their coffee knowledge into a niche variety of coffee,Adventurers who want to dive into the culture of Cuba and its coffee,Foodies looking to branch out into the world of coffee,Tea drinkers curious about coffee,History buffs interested in the history of Cuba, its culture, and the significance of coffee,Baristas looking to grow their repertoire
Homepage
https://www.udemy.com/course/cubancoffee/

Buy Premium From My Links To Get Resumable Support,Max Speed & Support Me
Links are Interchangeable - Single Extraction
Note:
Only Registed user can add comment, view hidden links and more, please register now