TTC - Master Your People Skills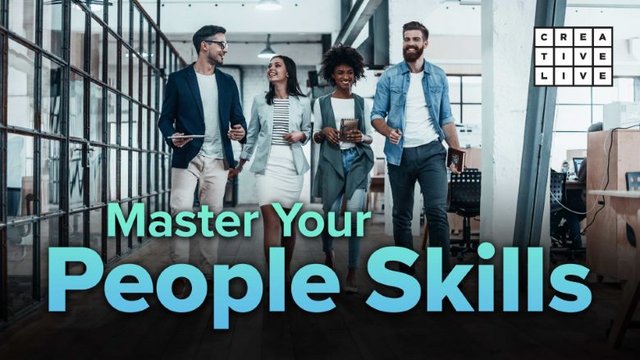 Released 2/2023
MP4 | Video: h264, 1280x720 | Audio: AAC, 44.1 KHz, 2 Ch
Genre: eLearning | Language: English | Duration: 31 Lessons (22h 55m) | Size: 16.2 GB
Have you ever walked into a room filled with strangers and felt awkward? Have you wondered where to stand, or felt unsure about how to start up a conversation, or questioned how to reply if someone spoke to you? Chances are the answers to those questions are "yes"...
Have you ever walked into a room filled with strangers and felt awkward? Have you wondered where to stand, or felt unsure about how to start up a conversation, or questioned how to reply if someone spoke to you? Chances are the answers to those questions are "yes"—because we all have felt that way at some point in our lives. No matter what subjects you studied in school, you may never have learned and honed the skills you need to navigate that room full of strangers, whether it was for a business meeting or a more casual social event. You just were not given all the tools you needed to succeed. But that changes now.
Build your social skills toolbox with Master Your People Skills, an immersive, science-based course to help you understand yourself and those around you in brand-new ways. In 31 captivating lessons, you will learn dozens of specific people skills to increase success in your family, business, and intimate relationships. And yes, you will learn not only where to stand in a room full of people you may not know, but you will also find yourself enjoying the prospect of getting to know them.
Your professor, Vanessa Van Edwards, founder of research and learning hub Science of People, understands what it means to feel uncomfortable in social situations. In fact, she describes herself as a "recovering awkward person" who would hide in the bathroom at networking events. That is not what she wants for you—and that is certainly not how you will feel after the experience of Master Your People Skills.
Busting the Myths of People Skills
When Vanessa realized that she needed some help with people skills—when she realized she would not be able to accomplish her social or professional goals without them—she turned to books. The books she read made a few good points but never taught her how to apply that information. And so, nothing really changed in her life. That is why Vanessa will not only teach the skills you need to learn, but also how to apply each skill in your daily life.
Before teaching the specific people skills you need, Vanessa busts three significant myths about the subject
People skills are not important. Again and again, studies show that those with measurably better people skills are more successful.
I don't need any help. Studies show that over 95% of people rate their people skills higher than they are when tested. Consequently, there's a good probability that improving your people skills will lead to greater success in important areas of your life.
Improving my people skills means becoming an extrovert. Improving your people skills means learning more about yourself, your values, motivations, and who you strive to be at the deepest level—then developing the ability to learn those things about other people, too. If you're a bubbly extrovert, great; if you have a quieter power, also great.
The Warm-Ups
Vanessa begins every lesson with a roadmap describing where the course has taken you up to that point, what her specific goals are for that lesson, and where the course will go after that. In addition, every lesson begins with a warm-up, an exercise to get "your juices flowing," as your expert says.
The warm-ups usually involve a challenge. Warm-ups can range from asking the participant to imagine a specific scene, to come up with specific words to describe yourself or someone else, and sometimes to roleplay an improvised situation. Everyone benefits from what the participants learn in these exercises. Warm-ups include
Conversation Starters. Vanessa asks everyone in her audience and at home to stand up using the "launch stance" (a skill she will teach you early on) and to imagine you're standing in a coffee-shop line. Each participant is to say their best conversation-starter aloud. You can hear the suggestions and the professor's real-time response to them.
Personality Speed-Reading. You will learn the concept of the personality matrix which you will then apply by filling out the matrix (found in the course materials) based on short, recorded interviews. The professor guides participants from her live audience in "speed-reading" the people they have just met on the videos.
Power of Persuasion. The purpose of this warm-up is to have each participant identify aspects of their lives in which they would like to be more persuasive. The mic is passed so you can hear the answers and the professor's responses to them.
Science-Based Skills
Each skill you will learn in this course is science-based, meaning that it was developed by top researchers at academic or clinical institutions and presented in peer-reviewed journals.
Chances are you will find some of the skills to be more applicable to your life than others. And that is what you would expect. If you're in an intimate relationship that is not meeting your needs and you don't know how to communicate to your partner what's wrong, you might be looking for a different set of skills than the business manager who is concerned about lagging sales. But both of you will benefit from increasing the vocabulary and power of your people skills.
Aggregated together, the skills taught in this course will help you become
Likable without having to be a people-pleaser. With the appropriate people skills, you will learn you don't have to put your own needs aside for people to like you. Instead, you can have mutually beneficial relationships.
Assertive and direct with your opinions without being aggressive. If you don't know how to express your opinions in a way that encourages others to listen with consideration, it's easy to become frustrated. That frustration can lead to aggression if you feel you have no other way to get people's full attention.
Influential as opposed to manipulative. When you learn how to increase your impact in an authentic, direct, and honest way, there is no need to feel you must manipulate others to get your point across.
No matter where you are on your life's journey, Master Your People Skills will help you understand your own life and the lives of those around you better, leading to greater success in your relationships and social situations.
What Will You Learn?
Develop techniques for overcoming awkward interactions, avoiding toxic people, and building rewarding relationships
Gain practical tips so you can be proud of your in-person interactions and also communicate more effectively online — via email, text, and social media
Discover how to command respect and supercharge your first impression
Learn the art of speed-reading people so you can know exactly what to do to win more deals and attract more clients
Master your presence to be more persuasive, likable and influential
Homepage
https://www.thegreatcourses.com/courses/master-your-people-skills

Download From Rapidgator
Download From Nitroflare
Download From 1DL

https://xxx/noae5juuuevi
https://xxx/hhyqpj1ulicp
https://xxx/gu2kr6v4jcck
https://xxx/dc5utfduikfj
https://xxx/g54qjb7p0c9o
https://xxx/brtugpcfww47
https://xxx/a9ds0v2zghzz
https://xxx/shym8zoy8o3y
https://xxx/9tzq3fo3l9bf
https://xxx/ksvxx91dx8mg
https://xxx/ueh03fvfbne5
https://xxx/tqpbu60vuaf7
https://xxx/nt17vqp58rzv
https://xxx/yxd73ijvv84h
https://xxx/wls0gozaayx2
https://xxx/hhrrkc442k3b
https://xxx/zcz29shh5ajo

Note:
Only Registed user can add comment, view hidden links and more, please register now