Muziza YouTube Downloader Converter 8.2.3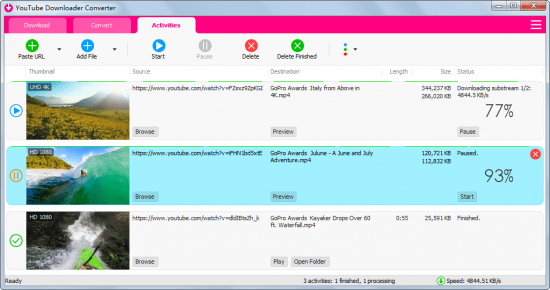 File size: 47.08 MB
YouTube Downloader Converter is a tool that facilitates an attractive interface and plenty of features to help you download video clips from YouTube, Facebook, Dailymotion, Instagram and other websites.
Features :• Online video downloader
The app can download videos from YouTube, Facebook, Instagram, Dailymotion, and thousands of other video sites.
• HD video downloader
The app can download UHD 8K, 5K, 4K, QHD 2K, HD 1080p and 720p videos from YouTube.
• YouTube to MP3 converter
The app allows you to download only audio stream from YouTube, and save it as MP3. You don't need to download the entire video file.
• Playlist downloader
The app enables you to download entire or part of a playlist with just a few clicks.
• Download accelerator
The app features a multi-thread download acceleration engine that increases your download speeds by up to 500% or even more.
• Download multiple videos at a time
The app supports simultaneous downloads. It allows you to download more than one video at the same time.
• Pause and resume downloads
You can pause and resume your downloads at any time.
• Support drag-and-drop
You may directly drag and drop video link from your browser to the drop box or the app window to start a download. You don't even need to copy and paste video URL.
• Preview video/audio while downloading
While downloading, you can click the 'Preview' button to view incomplete file and make sure the content is you want.
• Video and audio converter
The app can convert your disk video/audio files between MP4, FLV, AVI, WMV, MOV, MP3, AAC, and any other formats for any device.
• Video optimizer
The app automatically optimizes downloaded videos for popular mobile devices, so you can watch downloaded videos smoothly on your iPhone, iPad, Android phone, and other devices.
• Video to MP3 converter
The app allows you to extract audio stream from video and save it as MP3, WAV, AC3, or other audio format.
• Ready-made presets
The app provides ready-made presets for all video and audio formats. You can also customize your own video/audio formats.
• iTunes compatible
Optionally, the app can add downloaded video/music to your iTunes library automatically, so you can easily synchronize your videos and music to your iPhone, iPad, iPod.
• Media Player
The app contains an easy-to-use media player for playing files that Windows Media Player cannot play.
What's new :
Updates: official site does not provide any info about changes in this version.
HOMEPAGE
http://www.muziza.com

Download From Rapidgator
Download From Nitroflare
Download From 1DL

https://xxx/t6rvojcjev5k

Note:
Only Registed user can add comment, view hidden links and more, please register now