Microsoft Office LTSC 2021 Professional Plus / Standard 16.0.14332.20517 RePack by KpoJIuK (2023.06)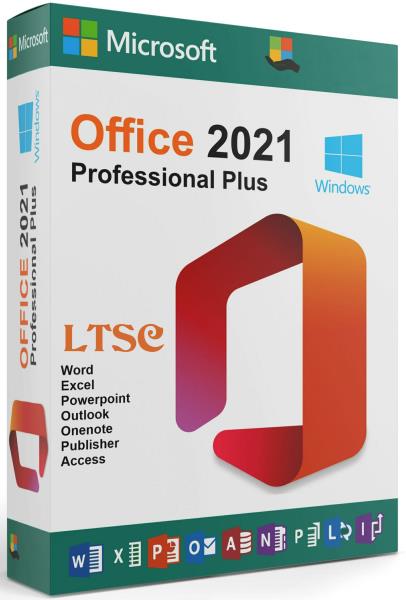 Russian / English / Ukrainian / + Office LP Integrator | File size: 2.25 GB
Microsoft Office LTSC 2021 Professional is the latest and most technically advanced version of the legendary collection of office software. You'll find handy new handwriting tools, data types, functions, animations, translation and editing tools. For example, you can now insert SVG images and apply filters to them, translate text using Microsoft Translator, create mathematical formulas using LaTeX syntax, and much more. The build includes the ability to use the updated interface, as well as some features from Office 365. If you have modern hardware, then Office 2021 is an excellent choice.
Traditionally, it includes applications such as Word, Excel, Outlook, PowerPoint, SharePoint and Skype for Business. The latest version of Office boasts a design update, improved stability, performance and a host of interesting innovations. So, for example, in the new version of Excel, developers have made a number of new formulas and graphs for more convenient analysis and display of data. PowerPoint has expanded visual animation capabilities with features such as morphing (Morph) and scaling (Zoom).
Additional Information:
Word 2021 for Windows lets you create compelling content and includes new stock media from the Office Premium Creative Content collection and additions to the Draw tab such as Spot Eraser, Ruler, and Lasso.
Excel 2021 for Windows makes it easy to analyze data using new Excel features, including dynamic arrays, XLOOKUP, and LET functions.
PowerPoint 2021 for Windows lets you create compelling content with additional features such as ink playback, improved slideshow recording, new stock media content from the Office Premium Creative Content collection, and additions to the Draw tab such as a dot eraser, ruler, and freeform selection.
Outlook 2021 for Windows gives you more control over your mailbox with new features including Top Search and Translator.
Access 2021 gives you the ability to quickly create and share a database. You just need to provide information. Access does the rest and helps you create and structure your data. Your data is converted into the correct format in reports and queries, so your applications always look great and work correctly.
Visio Professional 2021 enables individuals and teams to create and share professional and versatile diagrams that make complex information easier to work with. Visio Professional 2021 includes updated shapes, templates, and styles; improved collaboration support for teams, including the ability for multiple people to work on the same diagram at the same time; and the ability to instantly link schemas to data. Visio Professional 2021 also helps prevent data leakage by enabling data rights management.
Microsoft Office 2021 includes
• Are common:
Microsoft Office Word 2021
Microsoft Office Excel 2021
Microsoft Office PowerPoint 2021
Microsoft Office Publisher 2021
Microsoft Office Outlook 2021
Microsoft Office ONENOTE 2021
Microsoft Office ACCESS 2021
Microsoft Office TEAMS 2021
• Microsoft Project Pro/Standard 2021
• Microsoft Visio Pro/Standart 2021
Build Information
Languages : Russian, English, Ukrainian + Office LP Integrator
Activation : AAct by Ratiborus, online
Extensions : Office Tab Enterprise, Ubit Menu
Command line options for helper.exe
/S /INSTALL - silent installation
/PRO - Install Professional Plus
/WORD - install WORD
/EXCEL - install EXCEL
/POWERPOINT - install POWERPOINT
/ACCESS - install ACCESS (not available in the Standard version)
/OUTLOOK - install OUTLOOK
/ONENOTE - install ONENOTE
/XTEAMS - install MICROSOFT TEAMS
/PUBLISHER - install PUBLISHER
/XSTD - Standard installation
/WORD - install WORD
/EXCEL - install EXCEL
/POWERPOINT - install POWERPOINT
/OUTLOOK - install OUTLOOK
/ONENOTE - install ONENOTE
/XTEAMS - install MICROSOFT TEAMS
/PUBLISHER - install PUBLISHER
/VISIOPRO - Install Visio Pro
/VISIOSTD - Install Visio Standard
/PROJECTPRO - Install Project Pro
/PROJECTSTD - Install Project Standard
/LANG=ID - localization selection
where ID is a language identifier, for example RU-RU, EN-US, UK-UA
The parameter can be specified several times, the first language will be the main one
/UPD - allow installation of Office updates (can be changed later in the settings)
/KMS - activation and creation of a reactivation task every 10 days
/KMS /ONLINEKMS=URL - use to activate a remote server (by default kms.loli.best)
/KMS /MONDO - install Mondo 2016 license (enables some Office 365 features)
/RETTOVL - Convert Retail to VL (for example, to use MAK keys)
/MAK=key - install a MAK key
/OFFICETAB - install Office Tab
/UBITRU - installation of the Russian version of UBit Menu
/UBITEN - install the English version of UBit Menu
Examples :
helper.exe /S /INSTALL /PRO /WORD /EXCEL /POWERPOINT /VISIOSTD /LANG=RU-RU /KMS
Installing Professional Plus with WORD, EXCEL, POWERPOINT applications
Installing Visio Standard
Russian language, activation
helper.exe /S /INSTALL /XSTD /WORD /LANG=RU-RU /LANG=EN-US /UPD /KMS
Standard installation with WORD application
Language Russian (main) and English
Permission to install updates, activation
helper.exe /S /INSTALL /PROJECTPRO /LANG=UK-UA /LANG=RU-RU /KMS
Install Project Pro
Language Ukrainian (main) and Russian, activation
Changes in [13.06.2023] version:
• Updated: Office 16.0.14332.20517
• Updated: activator AAct 4.3.0
Checksums:
MD5x64 : 57540AE463FCCE77B6D34B4C1B0332D0

Download From Rapidgator
Download From Nitroflare
Download From 1DL

https://xxx/61yuxbebqgkw
https://xxx/t5co5fwcbewj
https://xxx/hmi4ixgyecv2

Note:
Only Registed user can add comment, view hidden links and more, please register now