Microsoft Office 2013 Pro Plus SP1 15.0.5553.1000 VL RePack by SPecialiST v23.6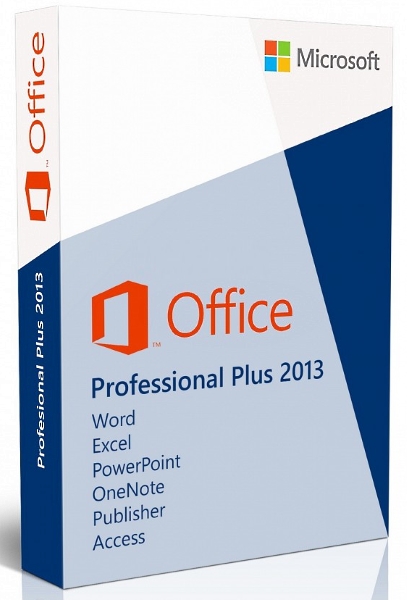 Russian / English | File size: 2.88 GB
Microsoft Office 2013 Pro Plus is one of the best application software packages for working with various types of documents. It includes the best tools for business development, as well as for achieving maximum comfort in the process of studying, managing household finances and more. Whether it's a business or home environment, it doesn't matter, Office 2013 simply must be installed on the computer of any self-respecting user who uses a PC not only for entertainment.
Efficient and easy-to-use tools will help home users and small businesses significantly increase their productivity in all their activities, from e-mail, planning the day to informative reports and great presentations.
More:
• Microsoft Word 2013 - a new version of the word processor with advanced features for creating documents. Word 2013 provides additional document experience. Inserting videos from the web, opening and editing PDF files, and aligning images and diagrams just got a whole lot easier. The new reading mode has become more convenient and does not distract your attention, and also works great on tablets. In addition, collaboration features have been improved with direct connections to web repositories and simplified review features such as revisions and annotations.
• Microsoft Excel 2013 is a dynamic business tool that allows you to make the right decisions based on the results of the analysis of existing data using improved tools and functions. The first thing that stands out is the new look and feel of Excel. It's stripped of unnecessary details, but also designed to deliver professional results quickly. Many features have been added to help you navigate through a large number of numbers and create compelling data images that lead to more informed decisions.
• Microsoft PowerPoint 2013 is a powerful presentation program, including portable ones, with advanced transitions, support for animation, audio and video - even in high resolution. Microsoft PowerPoint 2013 has a cleaner interface adapted to tablet PCs and touch screen phones. Presenter Mode automatically adjusts to match your projector and can even be used on a single monitor. Themes now have multiple options to make it easier to design, and when collaborating, you can add comments to ask a question or request feedback.
• Microsoft Outlook 2013 is an email client with an expanded set of new tools, support for various Web services and social networks. When you open Outlook, you will immediately notice its new look. It's now more concise, helping you focus on the essentials in your email, calendar, and contacts views.
• Microsoft Publisher 2013 is an easy-to-use utility for creating and creating professional-quality marketing materials and publications for printing and distribution by mail. Improved interface, photo editing, document navigation. Microsoft
• Publisher 2013 brings new ways to work with photos, allowing you to move, rearrange, and add visual alerts to your publications with new images and text effects.
• Microsoft Access 2013 - an improved version of the database with improved programming logic, integration with the business data catalog (BDC, Business Data Catalog), 25 quality templates. An Access 2013 web app is a new type of database that you create in Access and then use and publish as a shared SharePoint app in a web browser. To create a web application, you only need to select the type of data you plan to track (contacts, tasks, projects, and so on). Access creates a database structure with views that allow you to add and edit data. Navigation tools and basic commands are already built in, so you can start using your web app right away.
• Microsoft InfoPath 2013 is a rich, dynamic forms application for distributing and managing information across an organization.
• Microsoft OneNote 2013 is a digital notebook for storing and sharing a variety of information. When you open OneNote 2013, you'll immediately notice a new design that helps you focus on thoughts and ideas, not on the interface. With full integration with the cloud, you can free your hard drive from files while still accessing your notes and other data from anywhere using virtually any mobile device, tablet PC or browser.
• Microsoft Lync 2013 is the primary client software for Lync Server, providing presence, contact management, instant messaging, conferencing, and telephony capabilities.
• Microsoft SkyDrive Pro 2013 is your professional library for storing work documents and other files. Consider SkyDrive Pro your business version of SkyDrive. When you save files to SkyDrive Pro, they are only available to you, but at the same time, you can easily share them with colleagues, as well as view them from mobile devices. Your files will be stored securely in the SharePoint Online cloud or on your company's SharePoint Server 2013 servers, depending on your settings.
• Microsoft Project Professional 2013 makes it easy to manage projects and collaborate with employees from virtually anywhere. Organize your time and stay in control of your projects with the only project management system built to work seamlessly with other Microsoft applications and cloud services.
• Microsoft Visio Professional 2013 provides a set of new features that make diagramming more intuitive—including new and updated shapes and stencils, improved effects and themes, and a co-authoring feature that makes it easier for teams to work. You can also make your diagrams more dynamic by linking and sharing forms with real-time data through a browser using Visio Services in SharePoint, even if other users don't have Visio installed.
New features of Microsoft Office 2013:
• When you open Microsoft Office, you will immediately notice the new and fresh design. However, all the old and familiar features have not disappeared and have been supplemented with new ones that help you work even more efficiently. The new Office apps can also be used on smartphones, tablets, and in the cloud, even on PCs that don't have Office installed. Now important files will always be available to you, wherever you are and whatever device you use.
• Use Office from anywhere
· Install Office with a Microsoft account.
· Use the Office programs on another computer.
· Save files to SkyDrive for easy access and sharing.
· Use your personal way of setting, wherever you are.
• Save files and share them in the cloud. Cloud storage is available anytime as long as you have an internet connection. Now you can easily save Office files to SkyDrive or your organization's site, where you can work on Word documents, Excel spreadsheets, and other Office files and share them with others. You can even work on the file at the same time with colleagues.
• Joint meetings. Join online meetings and share PowerPoint slides, Word documents, Excel spreadsheets, and OneNote notes. Meeting attendees can view files even if they don't have Office installed.
• More options to get started. Instead of an empty file, you can choose the latest file or your favorite template. OneNote lets you sign in and open your notebooks from the web or from your computer.
• More convenient saving and opening. No more long browsing and scrolling of dialog boxes. You will see your most used folders right away. You can also pin a location so it's always available.
• Simplified file sharing. All file sharing options are collected in Office programs in one place, which can be opened by clicking on the File tab, then Sharing.
Contents of Microsoft Office Professional Plus 2013
This package includes the following products in Russian:
— Microsoft Office Professional Plus 2013
---Microsoft Access 2013
---Microsoft Excel 2013
---Microsoft InfoPath 2013
--- Microsoft Lync 2013
---Microsoft OneNote 2013
---Microsoft Outlook 2013
---Microsoft PowerPoint 2013
--- Microsoft Publisher 2013
---Microsoft SkyDrive Pro 2013
---Microsoft Visio Viewer 2013
---Microsoft Word 2013
— Microsoft Project Professional 2013
— Microsoft Sharepoint Designer 2013
— Microsoft Visio Professional 2013
Features of the Repack version:
- Assembly is based on Microsoft Office 2013 Professional Plus SP1 VL x86
- Added: Visio Professional, Project Professional and SharePoint Designer SP1 VL x86
- All officially available updates as of June 2023 have been integrated
- The installation includes the Office Tab Enterprise program, which adds tabs to open documents for quick switching between them
- The installation includes the UBit Menu program, which brings the familiar menu of the 2003 version of Office into each of the components of the program being installed.
- As an activation, an automatic office activator for Windows 7/8/8.1/10 AAct is offered. This activator does not require the presence of any versions of the .NET Framework package in the OS.
The activator is built into the administrative installation and starts automatically after the main installation. if for some reason it did not work the first time, you can repeat the activation procedure in manual mode by running the activator from the Start folder - All Programs - Microsoft Office - Office Tools - MS Office Activation
You can use the alternative activator KMSAuto Net which is attached to the distribution.
- A choice of fully automatic visible (optionally hidden), as well as manual installation with a choice of components.
- Using the launch keys, you can automatically install one of the proposed presets, for example, only the word + excel set (key help - launch the file with the /? key)
- After launch, the installer unpacks the installation files into a temporary folder (additionally, about 2.8 gigabytes of free disk space is required and installation begins in accordance with the selected parameters)
- Who does not like temporary files: the appropriate utilities and scripts that automate their work have been added to the assembly for unpacking the EXE distribution and converting it to a popular ISO or ISZ image
What's new since version V23.6 :
- All officially available updates as of June 2023 have been integrated
The actions on the buttons in the installers have changed actions - now when you press the Yes button after first unpacking the distribution into a temporary directory, an extended menu is launched in which you can select manual or automatic installation of office and office applications, update already installed office products, and also convert the repack into one from popular virtual disk images for burning or mounting in the corresponding programs, and when you click Yes while holding down the Shift key, an automatic visible installation of all components located next to the main installer starts, namely:
1. Office_хххх_RePack.exe - a file named Office without updates;
2. Visio_Project_SPD_хххх_RePack.exe = Visio, Project, SharePoint Designer programs without updates;
3. Updates.exe = updates for Office and Visio, Project, SharePoint Designer;
4. activator.exe = automatic office activation
5. EN.exe = installer is not standalone, contains English language localization files and requires nearby Office_*_RePack.exe files to work properly; Visio_Project_*_RePack; Updates.exe
Everyone downloads everything or only what he needs, i.e.:
- those who do not need automatic activation during the installation process will simply not download, delete or rename the activator.exe file (this will allow you not to install the activator kms service and activate the office in the way you prefer);
- those who do not need updates can simply not download, delete or rename the Updates.exe file (for someone, the speed of the current installation is more important, and updates can then be installed separately through this file or the Microsoft Update service);
- those who do not need additional applications Visio, Project, SharePoint Designer during the automatic installation of the office (please find and familiarize yourself with information about their purpose) may not download, delete or rename the Visio_Project_SPD_хххх_RePack.exe file
- those who do not need an English interface - may not download the EN.exe file
Examples:
- If at the time of launching the first file all other files are nearby, it will extract to the temporary directory and files of additional office applications, and updates with an activator and installation of choice from all applications will be available in manual mode, as well as in automatic mode all applications at once or their combinations with command line switches.
- If, when the second Visio_Project_SPD_хххх_RePack.exe file is launched, the Updates.exe update file and the activator.exe activator are next to it, you can manually or automatically install these applications with updates and activation.
Bottom line: if the functionality of the assemblies does not change much, instead of the previous two distributions with a different set of applications for each of the three versions of the office (a total of six distributions), 3 will be published (one distribution for each version of the office) with the above optional functionality, which makes it possible will not update all the files in the assemblies as a whole, but only the Updates.exe update files, which will allow less download of large files, and will simplify my work on further updating the assembly and reduce the time to publish on the network, and you will expand the functionality of the optional installation.
Installer Keys
Many possibilities of installation types can be peeped by running the installer with the /?
Main keys:
-ai = direct manual installation
-ais = MS Office Pro Plus*
-aiv=MS Office Visio*
-aij=MS Office Project*
-aid = MS Office SharePoint Designer*
OR
-aiw=Word+Excel*
-aie=Word+Excel+Outlook*
-aip=Word+Excel+PowerPoint*
-aio=Word+Excel+PowerPoint+Outlook*
* = Case sensitive, for example:
-aie = VISIBLE installation of Word+Excel+Outlook
-aiE = HIDDEN Install Word+Excel+Outlook
Additional keys:
-gm2 = hide file extract dialog
Examples of using
-ais = visible installation
-aiS = hidden installation
-aisv = visible installation + Visio
System requirements:
- Computer and processor: 1 gigahertz (GHz) or higher, x86-bit or x64-bit. processor with SSE2 instruction set
- Memory (RAM): 1 gigabyte (GB) RAM (32-bit); 2 gigabytes (GB) RAM (64-bit)
- Hard drive: 3.0 gigabytes (GB) of free space
- Display: Graphics hardware acceleration requires a DirectX10 capable graphics card with a resolution of 1024x576
- Operating system: Windows 7/8/8.1/10, Windows Server 2008 R2 or Windows Server 2012 (cannot be installed on Windows XP)

Download From Rapidgator
Download From Nitroflare
Download From 1DL

https://xxx/6egygtodnmi2
https://xxx/wjzwc067lsbp
https://xxx/mud4fmiu5is9

Note:
Only Registed user can add comment, view hidden links and more, please register now