ON1 Resize AI 2023.5 17.5.1.14051 (x64) Multilingual
How It Stands Out
• ON1 Resize AI uses state-of-art neural networks to enlarge photos without losing detail
• The ultimate workflow integration – ON1 Resize AI goes beyond the average plugins when it comes to integration with the host applications
• Print directly from the app – ON1 Resize AI excels at making stunning poster-sized prints
• Powerful batch processing lets you get work done in record time
• Unique tiling and gallery wrap features
Tools for Printing Big
Photo enlargement software should deliver the highest quality photo prints. ON1 Resize AI excels at making prints using state-of-the-art technology. You can enlarge your images to any size and not lose sharpness or details in your prints.
Create Canvas Wraps
The gallery wrap feature creates extended margins for wrapping your photo around wooden stretcher bars for canvas prints.
Tiling Feature
The tiling feature divides the photo into tiles or strips to make it easier to print a mural.
Get Beautiful Prints Every Time
Print individual photos, contact sheets, a wall portrait, or tile multiple photos into package prints. Also, print multiple photos on one piece of paper to create packages.
Better Batch Processing
The Export feature in ON1 Resize AI makes it easy to process a single photo, a handful or hundreds of them. Not only can you control the size, but the file type, naming, location, etc. You can even apply gallery wrap or watermarks on the fly.
Maintain an Amazing Amount of Detail
Studying millions of examples of the everyday world allows ON1 Resize AI to upscale photos and their textures to virtually any size, leaving photographers with ultra-high resolution images.
Keep the Crisp Details
ON1 Resize AI uses deep machine learning to study different details we see in the world, whether natural textures like animal fur, tree bark, feathers, grass, leaves, rock, and skin to man-made textures like concrete, fabric, or brick.
Easier Printing
When it comes to preparing your photo to print, knowing the proper resolution for your printer and the correct amount of sharpening for your paper choice can be daunting. ON1 Resize AI's built-in presets make this a breeze. Simply pick the kind of printer, the type of paper, and the size.
Works as a Plugin
for Adobe Lightroom, Photoshop, Capture One, and Apple Photos
Resize AI goes beyond the average plugins. In CaptureOne and Lightroom you can batch process easily with powerful new resizing options. And in Adobe Photoshop it can handle layered files with masks, alpha channels, text, and adjustment layers in RGB as well as CMYK, Grayscale and LAB.
Supported Languages
- English, German, Spanish, French, Japanese, Korean, Simplified Chinese, Russian, Portuguese, Italian, Dutch
Screen :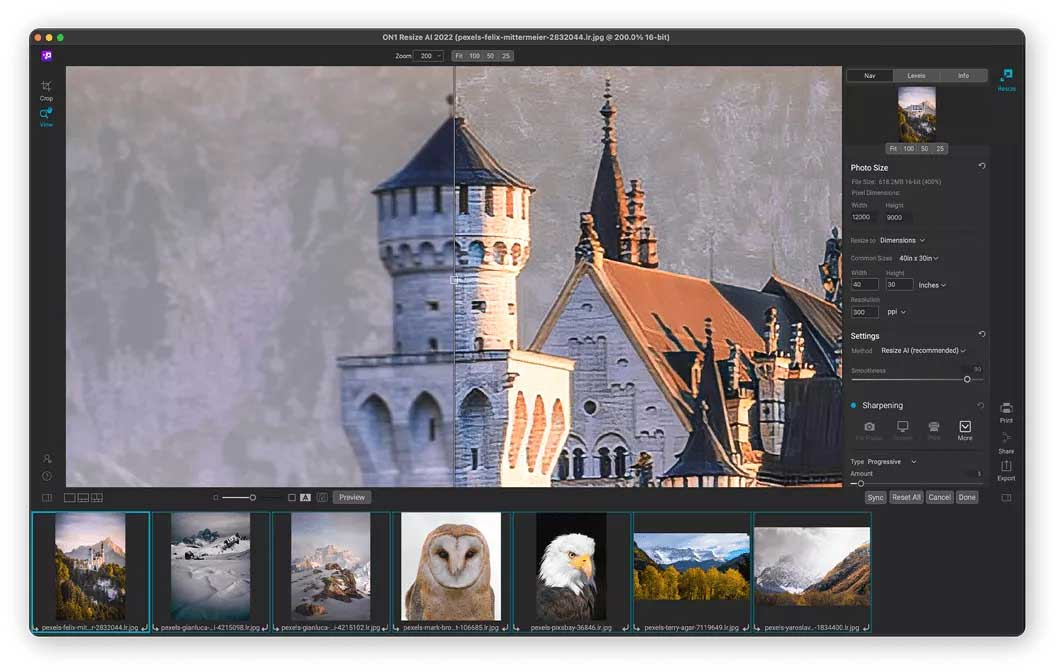 What's New
Show/hide text
HOMEPAGE

https://www.on1.com/

Buy Premium Account From My Download Links & Get Fastest Speed.
Note:
Only Registed user can add comment, view hidden links and more, please register now