CAD-Earth v8.0.3 for AutoCAD 2021-2024 (x64)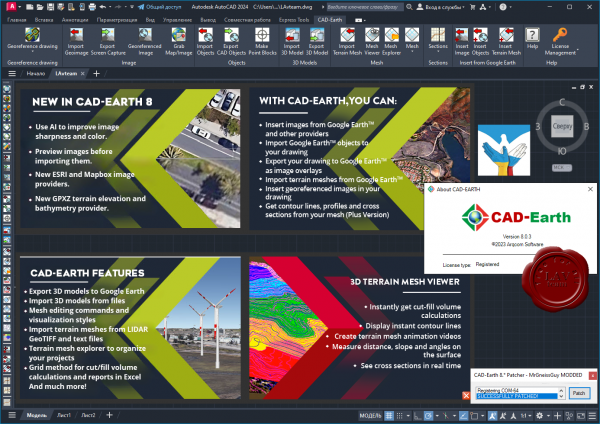 CAD-Earth v8.0.3 for AutoCAD 2021-2024 (x64) | 132 MB
CAD-Earth is designed to easily import/export images, objects and terrain meshes between Google Earth and major CAD programs and create dynamic contour lines and profiles.
Features:
Import Google Earth image to CAD.
Export CAD screenshot to Google Earth.
Insert georeferenced images.
Import Google Earth objects to CAD.
Export CAD objects to Google Earth.
Import Google Earth terrain.
More than 3000 supported coordinate systems worldwide.
Cross section from mesh.
Profile from mesh.
What's new in CAD-Earth 8?
Use AI to improve image sharpness and color. Images can be enlarged up to 4x times using an AI neural network to improve image resolution, light, and color balance.
Preview images before importing them to ensure the image is positioned correctly, and select from different providers to choose the best image according to your needs.
New image providers. You can now select from ESRI© or Mapbox© image providers when importing or inserting images.
New GPXZ terrain elevation and bathymetry provider. High-resolution elevation data is provided from Lidar and bathymetry datasets where available. Information about the resolution and dataset used can be displayed.
https://cad-earth.com/
PLEASE SUPPORT ME BY CLICK ONE OF MY LINKS IF YOU WANT BUYING OR EXTENDING YOUR ACCOUNT

https://nitroflare.com/view/38D203306C2365F/Arqcom.CAD-Earth.v8.0.3.ACAD.2021-2024.rar


https://rapidgator.net/file/46ee2b731208482b2ac37a0fa2ac5c73/Arqcom.CAD-Earth.v8.0.3.ACAD.2021-2024.rar.html

Note:
Only Registed user can add comment, view hidden links and more, please register now