ACAPsoft TwinSeek v1.9-RLTS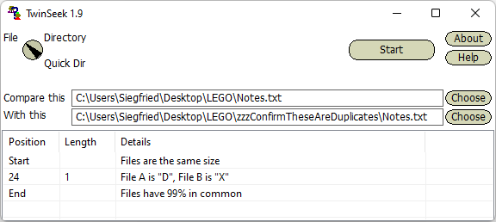 ACAPsoft.TwinSeek.v1.9-RLTS | 6.04 MB
With today's huge hard drives it becomes easy to accumulate very large collections of files. This becomes a problem when you realize that your collection of 89,571 files is full of duplicates... Sorting this manually would take weeks. TwinSeek however will help you speed this up significantly by comparing all the files in a directory and its subdirectories and will then show what ones are similar by a selected amount.
It can then show some details on the files to help you decide which ones to keep, or TwinSeek can even delete, recycle or move all doubles with one button. TwinSeek can also used to provide a detailed comparison of the differences between two files and remove empty directories.
Feature List
Runs in one of two main modes; file comparison and directory comparison.
Files and folders can be selected via selection boxes of via drag-and-drop.
Long operations can be paused and resumed.
All operations can be aborted at any time if they are taking too long.
Read NFO:
Show/hide text
Download Links:
ACAPsoft.TwinSeek.v1.9-RLTS.rar
ACAPsoft.TwinSeek.v1.9-RLTS.rar
Note:
Only Registed user can add comment, view hidden links and more, please register now