The Alan Parsons Project - Ammonia Avenue [3 CD + 2LP Super Deluxe Box Set] (2020) MP3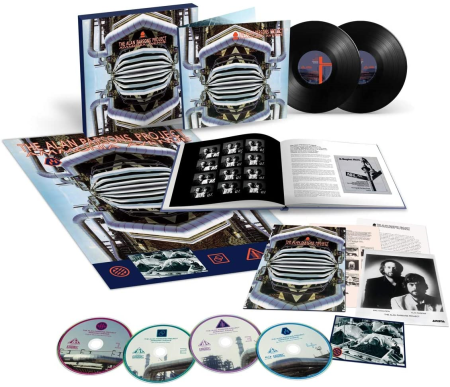 MP3 320 Kbps | Progressive rock, art rock, progressive pop, soft rock | 2.77 Gb
A DELUXE LIMITED EDITION BOXED SET OF THE CLASSIC ALBUM BY THE ALAN PARSONS PROJECT
NEWLY REMASTERED & REMIXED FROM THE ORIGINAL MASTER TAPES BY ALAN PARSONS
FEATURING 3 CDs, 1 BLU-RAY DISC (NTSTC/ REGION FREE) & 2 x 45 RPM 12-INCH VINYL IN GATEFOLD SLEEVE
FEATURING AN ADDITIONAL 53 BONUS TRACKS DRAWN FROM ERIC WOOLFSON'S SONGWRITING DIARIES, STUDIO SESSION OUT-TAKES AND STUNNING NEW 5.1 SURROUND SOUND & STEREO MIXES FROM THE ORIGINAL MULTI-TRACK MASTER TAPES BY ALAN PARSONS AND THE PROMOTIONAL VIDEOS OF 'DON'T ANSWER ME' & 'P '
INCLUDES A LAVISHLY ILLUSTRATED BOOK WITH NEW ESSAY FEATURING RECOLLECTIONS FROM ALAN PARSONS, THE WOOLFSON FAMILY, DAVID PATON & IAN BAIRNSON, A REPLICA POSTER & A REPRODUTION PRESS KIT FOLDER
Esoteric Recordings is proud to announce the release of a new re-mastered limited edition deluxe expanded boxed set of the classic album AMMONIA AVENUE by THE ALAN PARSONS PROJECT.
First released in February 1984, AMMONIA AVENUE was the seventh album by THE ALAN PARSONS PROJECT, the brainchild of composer, musician and manger ERIC WOOLFSON and celebrated producer and eeer ALAN PARSONS. The inspiration for the album title came from a visit Woolfson had made to the ICI Chal plant in Billingham, England after meeting ICI chairman Sir John Harvey-Jones on a flight from New York. Upon visiting the plant, Eric Woolfson noticed a long street called Ammonia Avenue, devoid of people and trees and dominated by miles of pipes.
The album sessions featured the contribution of musicians such as Ian Bairnson (guitars), David Paton (bass), Stuart Elliott (drums) with Eric Woolfson playing keyboards and lead vocals on four of the album's nine songs. Colin Blustone, Chris Rainbow and Lenny Zakatek also provided lead vocals on the remaining songs. AMMONIA AVENUE would become one of the biggest selling albums for THE ALAN PARSONS PROJECT, attaining gold status in many European countries and the USA. The album featured such classic compositions as DANCING ON A HIGHWIRE, SINCE THE LAST GOODBYE and the stunning title track. AMMONIA AVENUE also spawned the hit singles 'DON'T ANSWER ME' (a Top Ten hit throughout Europe and in the USA) and 'P '.
This deluxe edition comprises 3CDs, a Blu-Ray disc (NTSC / Region Free) and vinyl edition of a new stereo mix of AMMONIA AVENUE as two
CD1 - Ammonia Avenue
01. P
02. Let Me Go Home
03. One Good Reason
04. Since The Last Goodbye
05. Don't Answer Me
06. Dancing On A Highwire
07. You Don't Believe
08. Pipeline
09. Ammonia Avenue
Bonus Tracks:
10. Don't Answer Me (Early Rough Mix)
11. You Don't Believe (Demo)
12. Since The Last Goodbye (Chris Rainbow Vocal Overdubs)
13. Since The Last Goodbye (Eric Guide Vocal / Rough Mix)
14. You Don't Believe (Instrumental Tribute To The Shadows)
15. Dancing On A Highwire / Spotlight (Work In Progress)
16. Ammonia Avenue Part (Eric Demo Vocal / Rough Mix)
17. Ammonia Avenue (Orchestral Overdubs)
CD2 - Eric's Songwriting Diaries
01. P (Eric's Songwriting Diary 1)
02. One Good Reason (Eric's Songwriting Diary 1)
03. One Good Reason (Eric's Songwriting Diary 2)
04. One Good Reason (Eric's Songwriting Diary 3)
05. One Good Reason (Eric's Songwriting Diary 4)
06. Since The Last Goodbye (Eric's Songwriting Diary)
07. Don't Answer Me (Eric's Songwriting Diary)
08. Dancing On A Highwire (Eric's Songwriting Diary 1)
09. Dancing On A Highwire (Eric's Songwriting Diary 2)
10. Dancing On A Highwire (Eric's Songwriting Diary 3)
11. Ammonia Avenue (Eric's Songwriting Diary 1)
12. Ammonia Avenue (Eric's Songwriting Diary 2)
13. Ammonia Avenue (Eric's Songwriting Diary 3)
14. Ammonia Avenue (Eric's Songwriting Diary 4)
15. Don't Take Chances With Me (Eric's Songwriting Diary)
16. You'll Be Surprised (Eric's Songwriting Diary)
17. Wish I Was Miles Away (Eric's Songwriting Diary)
18. Toby's Theme (Eric's Songwriting Diary)
19. Amelie's Theme (Eric's Songwriting Diary)
CD3 - Studio Bonus Tracks
01. Ammonia Avenue Radio Advert
02. P (Eric Woolfson Demo Vocal On Rough Mix)
03. P (Musos Expenting)
04. Let Me Go Home (Rough Backing Track)
05. One Good Reason (Eric Woolfson Vocal With Rough Mix)
06. One Good Reason (Rough Backing Track)
07. Since The Last Goodbye (Rough Backing Track)
08. Don't Answer Me (Eric Woolfson Vocal With Rough Mix)
09. Don't Answer Me (Musos Expenting)
10. Don't Answer Me (Backing Track / Before Phil Spector Treatment And Alternative Sax Solo)
11. Dancing On A Highwire (Eric Woolfson Demo Vocal On Rough Backing Track)
12. You Don't Believe (Alan Parsons Demo Vocal On Rough Mix)
13. Ammonia Avenue (Eric Woolfson Demo Vocal With Orchestral Rough Mix)
14. Ammonia Avenue (Chris Rainbow Backing Vocals)
15. Ammonia Avenue (Instrumental Section Rough Mix)
16. Ammonia Avenue (Eric Woolfson Piano Takes)
17. AP 1 (Previously Unreleased Backing Track)
DOWNLOADuploadgigrapidgatornitroflare
Note:
Only Registed user can add comment, view hidden links and more, please register now