Do Revenge (2022) 1080p NF WEB-DL x265 HEVC 10bit EAC3 Atmos 5.1-Ghost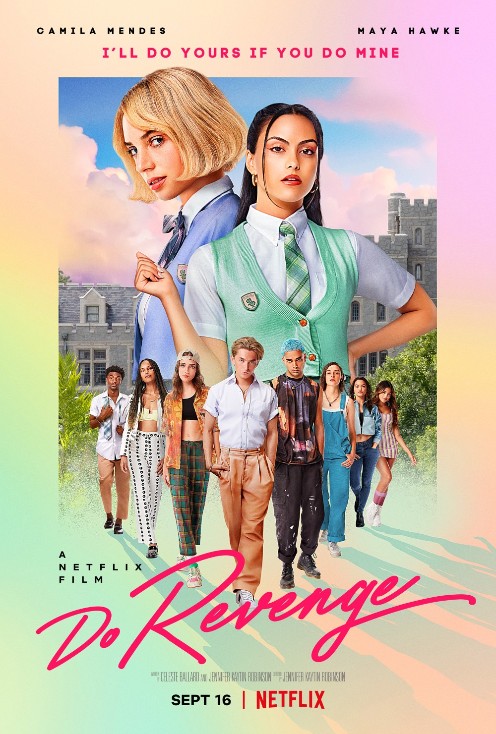 Genres:
Comedy
| Language: English
4.03 GB | 02:00:48 | x265 | 1080p | MKV
Drea is at the peak of her high school powers when her entire life goes up in flames after her sex tape gets leaked to the whole school, seemingly by her boyfriend and king of the school, Max. Eleanor is an awkward new transfer student who is angered to find out that she now has to go to school with her old bully, Carissa who started a nasty rumor about her in summer camp when they were 13. After a clandestine run-in at tennis camp, Drea and Eleanor form an unlikely and secret friendship to get revenge on each other's tormentors.
General :
Format : Matroska
File Size : 4.03 GiB
Duration : 2 h 0 min
Overall Bit Rate : 4778 kb/s
Video :
Format : HEVC
Format Profile : Main 10@L4@Main
Bit Rate : 4000 kb/s
Dimensions : 1920 pixels x 802 pixels
Display Aspect Ratio : 2.40:1
Frame Rate : 24.000 FPS
Writing Library : x265 3.5+68-a1039e6a3:[DJATOM's Mod][Windows][GCC 12.2.1][64 bit] 10bit
Audio : 
English / E-AC-3 JOC / 6 channels / 768 kb/s / Surround 5.1
Subtitle #1 : 
English / UTF-8 / 73 b/s
Subtitle #2 : 
English / UTF-8 / 89 b/s / SDH
Subtitle #3 : 
Arabic / UTF-8 / 132 b/s
Subtitle #4 : 
Croatian / UTF-8 / 62 b/s
Subtitle #5 : 
Czech / UTF-8 / 64 b/s
Subtitle #6 : 
Danish / UTF-8 / 62 b/s
Subtitle #7 : 
Dutch / UTF-8 / 67 b/s
Subtitle #8 : 
Finnish / UTF-8 / 58 b/s
Subtitle #9 : 
French / UTF-8 / 80 b/s
Subtitle #10 : 
French / UTF-8 / 91 b/s / SDH
Subtitle #11 : 
German / UTF-8 / 77 b/s
Subtitle #12 : 
German / UTF-8 / 85 b/s / SDH
Subtitle #13 : 
Greek / UTF-8 / 113 b/s
Subtitle #14 : 
Hebrew / UTF-8 / 112 b/s
Subtitle #15 : 
Hungarian / UTF-8 / 68 b/s
Subtitle #16 : 
Indonesian / UTF-8 / 63 b/s
Subtitle #17 : 
Italian / UTF-8 / 63 b/s
Subtitle #18 : 
Japanese / UTF-8 / 63 b/s
Subtitle #19 : 
Korean / UTF-8 / 89 b/s
Subtitle #20 : 
Malay / UTF-8 / 59 b/s
Subtitle #21 : 
Norwegian Bokmal / UTF-8 / 64 b/s
Subtitle #22 : 
fil / UTF-8 / 63 b/s
Subtitle #23 : 
Polish / UTF-8 / 55 b/s
Subtitle #24 : 
Portuguese / UTF-8 / 66 b/s
Subtitle #25 : 
Portuguese / UTF-8 / 75 b/s / Brazilian
Subtitle #26 : 
Portuguese / UTF-8 / 83 b/s / Brazilian SDH
Subtitle #27 : 
Romanian / UTF-8 / 72 b/s
Subtitle #28 : 
Russian / UTF-8 / 110 b/s
Subtitle #29 : 
Spanish / UTF-8 / 72 b/s
Subtitle #30 : 
Spanish / UTF-8 / 79 b/s / SDH
Subtitle #31 : 
Spanish / UTF-8 / 59 b/s / European
Subtitle #32 : 
Swedish / UTF-8 / 65 b/s
Subtitle #33 : 
Thai / UTF-8 / 172 b/s
Subtitle #34 : 
Turkish / UTF-8 / 64 b/s
Subtitle #35 : 
Ukrainian / UTF-8 / 104 b/s
Subtitle #36 : 
Vietnamese / UTF-8 / 90 b/s
Subtitle #37 : 
Chinese / UTF-8 / 73 b/s / Simplified
Subtitle #38 : 
Chinese / UTF-8 / 69 b/s / Traditional
Director:
Jennifer Kaytin Robinson
Writer:
Celeste Ballard, Jennifer Kaytin Robinson
Actors:
Camila Mendes, Maya Hawke, Austin Abrams
IMDB:
6.3/10 |
URL:
https://www.imdb.com/title/tt13327038/
Download Links:
Note:
Only Registed user can add comment, view hidden links and more, please register now