The Hunt (2020) 1080p BluRay x265 HEVC 10bit AAC 7.1 Tigole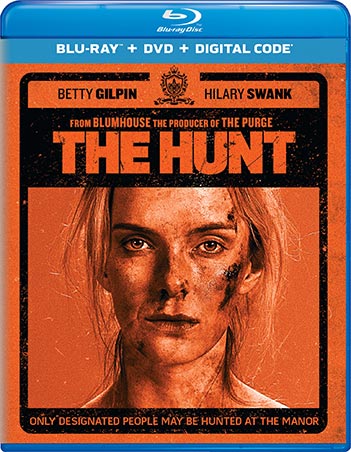 Genres: 
Action
, Horror, 
Thriller
 | Language: English
2.9 GB | 1 hour 30 min | x265 | 1080p | MKV | Including Extras
"Twelve strangers wake up in a clearing. They don't know where they are -- or how they got there. In the shadow of a dark internet conspiracy theory, ruthless elitists gather at a remote location to hunt humans for sport. But their master plan is about to be derailed when one of the hunted, Crystal, turns the tables on her pursuers.
Video 
: HEVC / Main 10@L4@Main / 3 854 kb/s / 1 920 pixels / 804 pixels / 2.40:1 / 23.976 (24000/1001) FPS / *Default
Writing library : x265 3.2+23-52135ffd9bcd:[Windows][GCC 9.2.0][64 bit] 10bit
Audio 
: AAC LC / 576 kb/s / 8 channels / English / *Default
Subtitle #1 
: VobSub / 10.2 kb/s / English
Subtitle #2 
: VobSub / 8 372 b/s / French
Subtitle #3 
: VobSub / 7 976 b/s / Spanish
Director:
Craig Zobel
Box Office:
 $6.5 million
Budget:
14 million USD
Starring:
Betty Gilpin , Hilary Swank , Ike Barinholtz , Wayne Duvall
IMDB:
6.4/10 | 
URL: 
https://www.imdb.com/title/tt8244784/
Download Links:
https://rapidgator.net/file/8de93cda8e90fc5e5ba38efdb9cf35ad/The.Hunt.2020.1080p.BluRay.x265.HEVC.10bit.AAC.7.1-Tigole.part1.rar.html
https://rapidgator.net/file/8aaa620b82af85661a3978b3d05057d1/The.Hunt.2020.1080p.BluRay.x265.HEVC.10bit.AAC.7.1-Tigole.part2.rar.html
https://rapidgator.net/file/e8f71763a57511473344dcfb4a374fc0/The.Hunt.2020.1080p.BluRay.x265.HEVC.10bit.AAC.7.1-Tigole.part3.rar.html
https://rapidgator.net/file/e006ecac336321de3dd616bd99ad34b9/The.Hunt.2020.1080p.BluRay.x265.HEVC.10bit.AAC.7.1-Tigole.part4.rar.html
http://www.filefactory.com/file/51b8aud2x6u7/n/The.Hunt.2020.1080p.BluRay.x265.HEVC.10bit.AAC.7.1-Tigole.part1.rar
http://www.filefactory.com/file/3zxmqa9piwd5/n/The.Hunt.2020.1080p.BluRay.x265.HEVC.10bit.AAC.7.1-Tigole.part2.rar
http://www.filefactory.com/file/3ge00vl5eia9/n/The.Hunt.2020.1080p.BluRay.x265.HEVC.10bit.AAC.7.1-Tigole.part3.rar
http://www.filefactory.com/file/4ztdb79hexo5/n/The.Hunt.2020.1080p.BluRay.x265.HEVC.10bit.AAC.7.1-Tigole.part4.rar
https://nitroflare.com/view/509FE7A0635CA87/The.Hunt.2020.1080p.BluRay.x265.HEVC.10bit.AAC.7.1-Tigole.part1.rar
https://nitroflare.com/view/019279C2E402487/The.Hunt.2020.1080p.BluRay.x265.HEVC.10bit.AAC.7.1-Tigole.part2.rar
https://nitroflare.com/view/40A6FB3A4F2B2A2/The.Hunt.2020.1080p.BluRay.x265.HEVC.10bit.AAC.7.1-Tigole.part3.rar
https://nitroflare.com/view/DCEB6274334EF93/The.Hunt.2020.1080p.BluRay.x265.HEVC.10bit.AAC.7.1-Tigole.part4.rar
Note:
Only Registed user can add comment, view hidden links and more, please register now