Vivarium (2019) 1080p BluRay x265 HEVC 10bit AAC 5.1 - Tigole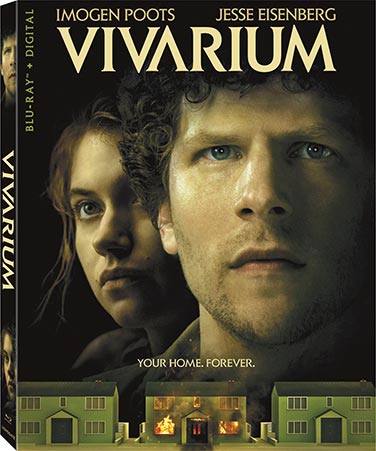 Genres: 
Horror
, Mystery, Sci-Fi | Language: English
3.6 GB | 1 hour 38 min | x265 | 1080p | MKV | Including Extras 
A young couple is thinking about buying their starter home. And to this end, they visit a real estate agency where they are received by a strange sales agent, who accompanies them to a new, mysterious, peculiar housing development to show them a single-family home. There they get trapped in a surreal, maze-like nightmare.
Video 
: HEVC / Main 10@L4@Main / 4 499 kb/s / 1 920 pixels / 804 pixels / 2.40:1 / 23.976 (24000/1001) FPS / *Default
Writing library : x265 3.2+23-52135ffd9bcd:[Windows][GCC 9.2.0][64 bit] 10bit
Audio #1 
: AAC LC / 384 kb/s / 6 channels / English / *Default
Audio #2 
: AAC LC SBR / 66.2 kb/s / 2 channels / Commentary / English
Subtitle #1 
: VobSub / 5 466 b/s / English
Subtitle #2 
: VobSub / 3 355 b/s / Spanish
Director:
Lorcan Finnegan
Box Office:
123,044 USD
Starring:
Imogen Poots , Danielle Ryan , Molly McCann , Jesse Eisenberg
IMDB:
5.8/10 | 
URL: 
https://www.imdb.com/title/tt8368406/
Download Links:
https://rapidgator.net/file/d13ab2706cabba82a5a31a7119807d5a/Vivarium.2019.1080p.BluRay.x265.HEVC.10bit.AAC.5.1-Tigole.part1.rar.html
https://rapidgator.net/file/7dd1e47b73f10ce3c42a121a3d5cd42d/Vivarium.2019.1080p.BluRay.x265.HEVC.10bit.AAC.5.1-Tigole.part2.rar.html
https://rapidgator.net/file/3fa1039b8cb249a6fa1b19fd3630905d/Vivarium.2019.1080p.BluRay.x265.HEVC.10bit.AAC.5.1-Tigole.part3.rar.html
https://rapidgator.net/file/6b55eca882347bc2be809c387ee25ea6/Vivarium.2019.1080p.BluRay.x265.HEVC.10bit.AAC.5.1-Tigole.part4.rar.html
https://rapidgator.net/file/996ecff24babe1109c7fbb5581a462e5/Vivarium.2019.1080p.BluRay.x265.HEVC.10bit.AAC.5.1-Tigole.part5.rar.html
http://www.filefactory.com/file/2qshacbhbtjj/n/Vivarium.2019.1080p.BluRay.x265.HEVC.10bit.AAC.5.1-Tigole.part1.rar
http://www.filefactory.com/file/1f1zmb4vqtl/n/Vivarium.2019.1080p.BluRay.x265.HEVC.10bit.AAC.5.1-Tigole.part2.rar
http://www.filefactory.com/file/6yo6phovj0zz/n/Vivarium.2019.1080p.BluRay.x265.HEVC.10bit.AAC.5.1-Tigole.part3.rar
http://www.filefactory.com/file/7ibjktnzaqh1/n/Vivarium.2019.1080p.BluRay.x265.HEVC.10bit.AAC.5.1-Tigole.part4.rar
http://www.filefactory.com/file/62d11qdcwvgn/n/Vivarium.2019.1080p.BluRay.x265.HEVC.10bit.AAC.5.1-Tigole.part5.rar
https://nitroflare.com/view/7393E4D21FDE769/Vivarium.2019.1080p.BluRay.x265.HEVC.10bit.AAC.5.1-Tigole.part1.rar
https://nitroflare.com/view/AC9126846CE8CE5/Vivarium.2019.1080p.BluRay.x265.HEVC.10bit.AAC.5.1-Tigole.part2.rar
https://nitroflare.com/view/D97D5BA7849B2BE/Vivarium.2019.1080p.BluRay.x265.HEVC.10bit.AAC.5.1-Tigole.part3.rar
https://nitroflare.com/view/E361D9B84227F25/Vivarium.2019.1080p.BluRay.x265.HEVC.10bit.AAC.5.1-Tigole.part4.rar
https://nitroflare.com/view/616869C78A37536/Vivarium.2019.1080p.BluRay.x265.HEVC.10bit.AAC.5.1-Tigole.part5.rar
Note:
Only Registed user can add comment, view hidden links and more, please register now