Emma. (2020) 1080p BluRay x265 HEVC 10bit AAC 5.1 - Tigole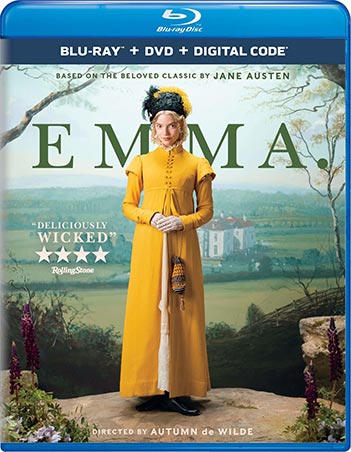 Genres: 
Comedy
, 
Drama
 | Language: English
6 GB | 2 hours 4 min | x265 | 1080p | MKV | Including Extras 
Jane Austen's beloved comedy about finding your equal and earning your happy ending, is reimagined in this. Handsome, clever, and rich, Emma Woodhouse is a restless queen bee without rivals in her sleepy little town. In this glittering satire of social class and the pain of growing up, Emma must adventure through misguided matches and romantic missteps to find the love that has been there all along.
Video 
: HEVC / Main 10@L4@Main / 5 998 kb/s / 1 920 pixels / 1 080 pixels / 16:9 / 23.976 (24000/1001) FPS / *Default
Writing library : x265 3.2+23-52135ffd9bcd:[Windows][GCC 9.2.0][64 bit] 10bit
Audio #1 
: AAC LC / 398 kb/s / 6 channels / English / *Default
Audio #2 
: AAC LC SBR / 66.2 kb/s / 2 channels / Commentary / English
Subtitle #1 
: VobSub / 10.7 kb/s / English
Subtitle #2 
: VobSub / 9 630 b/s / French
Subtitle #3 
: VobSub / 8 601 b/s / Spanish
Director:
Autumn de Wilde
Box Office:
25.2 million USD
Starring:
Anya Taylor-Joy , Johnny Flynn , Mia Goth , Angus Imrie
IMDB:
6.8/10 | 
URL: 
https://www.imdb.com/title/tt9214832/
Download Links:
https://rapidgator.net/file/f36bd469c63bd475d7b336ee89f63ef8/Emma..2020.1080p.BluRay.x265.HEVC.10bit.AAC.5.1-Tigole.part1.rar.html
https://rapidgator.net/file/328e35032f694791febab33bf8647da2/Emma..2020.1080p.BluRay.x265.HEVC.10bit.AAC.5.1-Tigole.part2.rar.html
https://rapidgator.net/file/928a0118040289bce2fab86768120e90/Emma..2020.1080p.BluRay.x265.HEVC.10bit.AAC.5.1-Tigole.part3.rar.html
https://rapidgator.net/file/a105f055b581a12398e78220bf9ddfbb/Emma..2020.1080p.BluRay.x265.HEVC.10bit.AAC.5.1-Tigole.part4.rar.html
https://rapidgator.net/file/ccac5ab76cf33e5ab87caee0c508621c/Emma..2020.1080p.BluRay.x265.HEVC.10bit.AAC.5.1-Tigole.part5.rar.html
https://rapidgator.net/file/744e71eee7ad4d588c48ee50ca658fa4/Emma..2020.1080p.BluRay.x265.HEVC.10bit.AAC.5.1-Tigole.part6.rar.html
https://rapidgator.net/file/e2a66f23a4a85ce9c7924b31968cd865/Emma..2020.1080p.BluRay.x265.HEVC.10bit.AAC.5.1-Tigole.part7.rar.html
http://www.filefactory.com/file/47xtxwm3x43d/n/Emma..2020.1080p.BluRay.x265.HEVC.10bit.AAC.5.1-Tigole.part1.rar
http://www.filefactory.com/file/j0dmt5yqt5j/n/Emma..2020.1080p.BluRay.x265.HEVC.10bit.AAC.5.1-Tigole.part2.rar
http://www.filefactory.com/file/4kjy485ok53p/n/Emma..2020.1080p.BluRay.x265.HEVC.10bit.AAC.5.1-Tigole.part3.rar
http://www.filefactory.com/file/5nxj485q838t/n/Emma..2020.1080p.BluRay.x265.HEVC.10bit.AAC.5.1-Tigole.part4.rar
http://www.filefactory.com/file/673rlnpowjw7/n/Emma..2020.1080p.BluRay.x265.HEVC.10bit.AAC.5.1-Tigole.part5.rar
http://www.filefactory.com/file/2g9okajl8m0f/n/Emma..2020.1080p.BluRay.x265.HEVC.10bit.AAC.5.1-Tigole.part6.rar
http://www.filefactory.com/file/115hju0utxm9/n/Emma..2020.1080p.BluRay.x265.HEVC.10bit.AAC.5.1-Tigole.part7.rar
https://nitroflare.com/view/72A17C18CD924EC/Emma..2020.1080p.BluRay.x265.HEVC.10bit.AAC.5.1-Tigole.part1.rar
https://nitroflare.com/view/7CD98A4F2429C99/Emma..2020.1080p.BluRay.x265.HEVC.10bit.AAC.5.1-Tigole.part2.rar
https://nitroflare.com/view/B31B5352B6CCC26/Emma..2020.1080p.BluRay.x265.HEVC.10bit.AAC.5.1-Tigole.part3.rar
https://nitroflare.com/view/ABFAC218ABAECF1/Emma..2020.1080p.BluRay.x265.HEVC.10bit.AAC.5.1-Tigole.part4.rar
https://nitroflare.com/view/B29C13FA5120AC7/Emma..2020.1080p.BluRay.x265.HEVC.10bit.AAC.5.1-Tigole.part5.rar
https://nitroflare.com/view/B14289F5851DEE4/Emma..2020.1080p.BluRay.x265.HEVC.10bit.AAC.5.1-Tigole.part6.rar
https://nitroflare.com/view/B98A1A0E06D76C0/Emma..2020.1080p.BluRay.x265.HEVC.10bit.AAC.5.1-Tigole.part7.rar
Note:
Only Registed user can add comment, view hidden links and more, please register now