The Man from Toronto (2022) 1080p BluRay x265 HEVC 10bit AAC 5.1-Tigole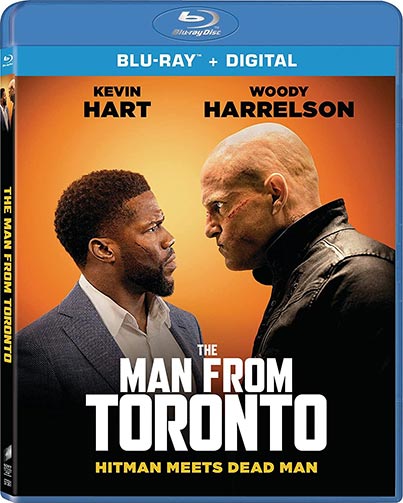 Genres: 
Action
, 
Adventure
, 
Comedy
, 
Thriller
 | Language: English
4.61 GB | 01:49:59 | x265 | 1080p | MKV | Including Extras
Teddy, a struggling fitness entrepreneur in Yorktown, Virginia, is fired from his job at a local gym for giving ad brochures without the gym's address. He decides not to tell his wife Lori, taking her to Onancock for her birthday. Leaving her at a spa, Teddy arrives at the wrong cabin, where a man named Coughlin is being held hostage. Mistaken for "the Man from Toronto", a mysterious assassin with a talent for brutal interrogation, the clueless Teddy manages to intimidate Coughlin into giving up a code. The cabin is raided by the FBI, who convince Teddy to pose as the Man from Toronto to help capture would-be Venezuelan dictator Colonel Marin in exchange the FBI will pay off his overdue mortgage. As he navigates through a web of intrigue and danger, Teddy's relationships are put to the test, including his marriage to Lori and his unexpected bond with the actual Man from Toronto, named Randy. With twists and turns along the way, Teddy and Randy find themselves entangled in a mission to prevent a catastrophic event. The film culminates in a series of confrontations, leading to unexpected consequences and a surprising resolution.
General 
: Matroska / 4.57 GiB / 1 h 49 min / 5 942 kb/s
Video 
: HEVC / Main 10@L4@Main / 5 454 kb/s / 1 920 pixels / 804 pixels / 2.40:1 / 23.976 (24000/1001) FPS / *Default
Writing library : x265M - 3.4+35-772bb4c84:[Windows][GCC 10.2.0][64 bit] 10bit
Audio 
: AAC LC / 432 kb/s / 6 channels / English / *Default
Subtitle #1 
: VobSub / 15.2 kb/s / English
Subtitle #2 
: VobSub / 5 723 b/s / Forced / English / *Forced
Subtitle #3 
: VobSub / 10.3 kb/s / Chinese
Subtitle #4 
: VobSub / 11.3 kb/s / French
Subtitle #5 
: VobSub / 11.0 kb/s / Korean
Subtitle #6 
: VobSub / 12.2 kb/s / Portuguese
Subtitle #7 
: VobSub / 11.8 kb/s / Spanish
Subtitle #8 
: VobSub / 11.3 kb/s / Thai
Director:
Patrick Hughes
Writer:
Robbie Fox, Chris Bremner, Jason Blumenthal
Actors:
Kevin Hart, Woody Harrelson, Jasmine Mathews
IMDB:
5.8/10 |
URL:
https://www.imdb.com/title/tt11671006/
Download Links:
Note:
Only Registed user can add comment, view hidden links and more, please register now