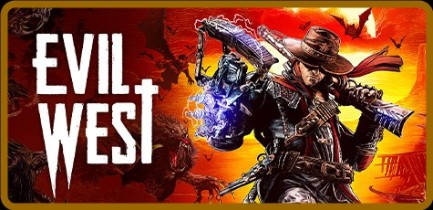 Free Download:Evil West v1 0 5-I KnoW
|
Size :
32.39 GB
Game Title :
Evil West
Date Release:
21 Nov, 2022
Developer :
Flying Wild Hog
Editor :
Focus Entertainment
Genre :
:Action, Adventure, RPG
Language
:English, Polish, French, Italian, German, Spanish - Spain, Simplified Chinese, Traditional Chinese, Korean, Portuguese - Brazil, Russian, Czech
Description:
A dark menace consumes the Old West. In solo or coop, fight with style in visceral, explosive combat against bloodthirsty monstrosities. Eradicate the vampiric hordes with your lightning-fueled gauntlet and become a Wild West Superhero.
ScreenShoot
System Requirements :
OS: Windows 10 (64 bits)
Processor: Intel Core i5-2500K (3.3 GHz) / AMD FX-6300 X6 (3.5 GHz)
Memory: 8 GB RAM
Graphics: 4 GB VRAM, GeForce GTX 750 Ti / Radeon RX 460
Storage: 40 GB available space
Additional Notes: 30 FPS, 1920x1080 in medium
For any dead links contact me i will update ASAPDownload Links

Evil.West.v1.0.5-I_KnoW.part01.rar
Evil.West.v1.0.5-I_KnoW.part02.rar
Evil.West.v1.0.5-I_KnoW.part03.rar
Evil.West.v1.0.5-I_KnoW.part04.rar
Evil.West.v1.0.5-I_KnoW.part05.rar
Evil.West.v1.0.5-I_KnoW.part06.rar
Evil.West.v1.0.5-I_KnoW.part07.rar
Evil.West.v1.0.5-I_KnoW.part08.rar
Evil.West.v1.0.5-I_KnoW.part09.rar
Evil.West.v1.0.5-I_KnoW.part10.rar
Evil.West.v1.0.5-I_KnoW.part11.rar
Evil.West.v1.0.5-I_KnoW.part12.rar
Evil.West.v1.0.5-I_KnoW.part13.rar
Evil.West.v1.0.5-I_KnoW.part14.rar
Evil.West.v1.0.5-I_KnoW.part15.rar
Evil.West.v1.0.5-I_KnoW.part16.rar
Evil.West.v1.0.5-I_KnoW.part17.rar
Evil.West.v1.0.5-I_KnoW.part18.rar
Evil.West.v1.0.5-I_KnoW.part19.rar
Evil.West.v1.0.5-I_KnoW.part20.rar
Evil.West.v1.0.5-I_KnoW.part21.rar
Evil.West.v1.0.5-I_KnoW.part22.rar
Evil.West.v1.0.5-I_KnoW.part23.rar
Evil.West.v1.0.5-I_KnoW.part24.rar
Evil.West.v1.0.5-I_KnoW.part25.rar
Evil.West.v1.0.5-I_KnoW.part26.rar
Evil.West.v1.0.5-I_KnoW.part27.rar
Evil.West.v1.0.5-I_KnoW.part28.rar
Evil.West.v1.0.5-I_KnoW.part29.rar
Note:
Only Registed user can add comment, view hidden links and more, please register now