Kingdoms of Amalur Re-reckoning Fatesworn v1 10 REPACK-KaOs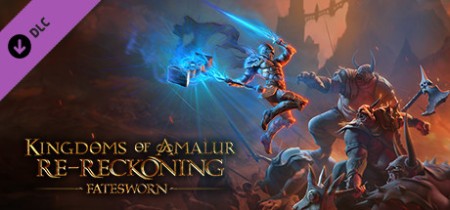 Free Download Kingdoms of Amalur Re-reckoning Fatesworn v1 10 REPACK-KaOs
|
Size :
24.44 GB
Game Title :
Kingdoms of Amalur: Re-Reckoning - Fatesworn
Date Release:
14 Dec, 2021
Developer :
KAIKO
Editor :
THQ Nordic
Genre :
:Action, RPG
Licence:
Repack
Language
:English, French, Italian, German, Spanish - Spain, Japanese, Russian, Simplified Chinese
Description:
About This Content
After decades of conflict, the disastrous Crystal War has finally ended, and the Tuatha warlord Gadflow has been defeated. As the people of Amalur's ravaged Faelands turn their gaze toward a welcome peace and the work of rebuilding, a new threat rises in the west. Beyond icy peaks and impassable cliffs lies the mountainous region of Mithros, an ancient Almain refuge offering new hope to settlers, refugees, and war veterans displaced by the fires of war. It is here that Telogrus, God of Chaos, has emerged to claim his mortal kingdom and tempt the people with promises of freedom from the shackles of Fate. Only one has the power to challenge the will of this risen god: you, the Fateless One.
Journey to a brand new Amalur environment filled with snowy tundras, deep caverns, and treacherous enemies, and visit mountain villages and the ancient lakeside city of Crownhold. Master the unstable power of Chaos with a unique new non-combat Skill and class of weapons and armor. As the fabled Fatesworn, you will wage a last battle against the Niskaru and their Chaos brethren, as Chaos dungeons turn every region in Kingdoms of Amalur: Reckoning into a potential battlefield.
Set in a completely new environment called Mithros featuring mountains and snowy landscapes

Face the God of Chaos in 6h+ Main quest with a compelling story line that concludes the game, featuring new and returning characters

Chaos as a completely new gameplay mechanic connected to weapons, enemies, rifts and portals

Level cap raised to 50

The journey takes you to 2 entirely new dungeon sets

Enter Chaos Portals to explore 25 brand new Chaos Realm dungeons strewn across the Fatesworn world and the old world

New enemies and variations of existing enemies

New crafting items for weapons, gems, potions with new reagents and components

6 new unique armor sets with very special and powerful traits

21 new weapons and shields (9 chaos weapons, 15 unique)

New accessories like rings and amulets with powerful traits

New music by award winning composer Grant Kirkhope

New mysterious trader selling equipment lottery boxes, offering a new way to complete rare item sets

New twist of fate cards

Tons of new sidequests task quests and faction quest to fulfill

New villages and cities, with new houses and interiors and much more

Now updated with Arena Mode & New Content centered around Alyn Shir (New in March 2023)
Arena Mode
Prepare to put your battle skills to the test in Kingdoms of Amalur: Re-Reckoning's all new "Arena Mode". Round after round you will fight hordes of enemies in brand new Arena locations. The stakes are high, and Rewards await those who can show their mettle. Gear up and use powerful Enchantments as the difficulty increases with each new battle. Prove your worthiness by completing Round Challenges to receive even more Rewards. Do you have what it takes to leave the Arena victorious?
3 new Arena locations (located in Plains of Erathell, Klurikon and Crownhold) and additional variations

New enemy group setups with increasing difficulty per round

New Rewards

Alyn Shir
Many fantastic tales have been spun about the secretive Dokkalfar agent named Alyn Shir. . now it is up to you to unravel one of them. Follow a series of clues and travel to a number of hidden locations across Amalur to procure a very delicate item left behind by the infamous assassin herself. But be warned: You are not the only one who wants to get their hands on this important and very personal piece.
Revisit pivotal locations all across Amalur and explore secret hideouts

Uncover lore of your former self and your special relation with Alyn Shir

Embark on a scavenger hunt that pits you against the lowest of the low

ScreenShot
System Requirements :
OS: Windows 7, Windows, 8, Windows 10 (64 bit)
Processor: Intel or AMD Dual Core CPU 2.5 GHz
Memory: 4 GB RAM
Graphics: DirectX 10 Feature Level AMD or NVIDIA Card with 1 GB VRAM
DirectX: Version 11
Storage: 10 GB available space
Download Links

Kingdoms.of.Amalur.Re-reckoning.Fatesworn.v1.10.REPACK-KaOs.part01.rar
Kingdoms.of.Amalur.Re-reckoning.Fatesworn.v1.10.REPACK-KaOs.part02.rar
Kingdoms.of.Amalur.Re-reckoning.Fatesworn.v1.10.REPACK-KaOs.part03.rar
Kingdoms.of.Amalur.Re-reckoning.Fatesworn.v1.10.REPACK-KaOs.part04.rar
Kingdoms.of.Amalur.Re-reckoning.Fatesworn.v1.10.REPACK-KaOs.part05.rar
Kingdoms.of.Amalur.Re-reckoning.Fatesworn.v1.10.REPACK-KaOs.part06.rar
Kingdoms.of.Amalur.Re-reckoning.Fatesworn.v1.10.REPACK-KaOs.part07.rar
Kingdoms.of.Amalur.Re-reckoning.Fatesworn.v1.10.REPACK-KaOs.part08.rar
Kingdoms.of.Amalur.Re-reckoning.Fatesworn.v1.10.REPACK-KaOs.part09.rar
Kingdoms.of.Amalur.Re-reckoning.Fatesworn.v1.10.REPACK-KaOs.part10.rar
Kingdoms.of.Amalur.Re-reckoning.Fatesworn.v1.10.REPACK-KaOs.part11.rar
Kingdoms.of.Amalur.Re-reckoning.Fatesworn.v1.10.REPACK-KaOs.part12.rar
Kingdoms.of.Amalur.Re-reckoning.Fatesworn.v1.10.REPACK-KaOs.part13.rar
Kingdoms.of.Amalur.Re-reckoning.Fatesworn.v1.10.REPACK-KaOs.part14.rar
Kingdoms.of.Amalur.Re-reckoning.Fatesworn.v1.10.REPACK-KaOs.part15.rar
Kingdoms.of.Amalur.Re-reckoning.Fatesworn.v1.10.REPACK-KaOs.part16.rar
Kingdoms.of.Amalur.Re-reckoning.Fatesworn.v1.10.REPACK-KaOs.part17.rar
Kingdoms.of.Amalur.Re-reckoning.Fatesworn.v1.10.REPACK-KaOs.part18.rar
Kingdoms.of.Amalur.Re-reckoning.Fatesworn.v1.10.REPACK-KaOs.part19.rar
Kingdoms.of.Amalur.Re-reckoning.Fatesworn.v1.10.REPACK-KaOs.part20.rar
Kingdoms.of.Amalur.Re-reckoning.Fatesworn.v1.10.REPACK-KaOs.part21.rar
Kingdoms.of.Amalur.Re-reckoning.Fatesworn.v1.10.REPACK-KaOs.part22.rar
Kingdoms.of.Amalur.Re-reckoning.Fatesworn.v1.10.REPACK-KaOs.part23.rar
Kingdoms.of.Amalur.Re-reckoning.Fatesworn.v1.10.REPACK-KaOs.part24.rar
Kingdoms.of.Amalur.Re-reckoning.Fatesworn.v1.10.REPACK-KaOs.part25.rar
Note:
Only Registed user can add comment, view hidden links and more, please register now