Microsoft Office 2013 SP1 Professional Plus / Standard + Visio Pro + Project Pro 15.0.5163.1000 (2019.08) RePack by KpoJIuK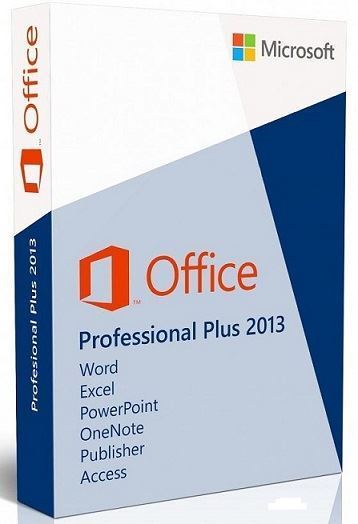 Microsoft Office 2013 SP1 Professional Plus / Standard + Visio Pro + Project Pro 15.0.5163.1000 (2019.08) RePack by KpoJIuK | 2.98GB
Microsoft Office 2013 SP1 is the best application package for working with documents of various types. It includes the best tools for business development, as well as to achieve maximum comfort in the process of studying, conducting home finances and other things.
Whether it's a business or home environment - it doesn't matter, Office 2013 simply has to be installed on the computer of any self-respecting user who uses a PC not only for entertainment. Efficient and easy-to-use tools will help ordinary home users and small businessmen significantly increase their productivity in all their tasks, from email, day planning, and ending with informative reports and great presentations.
System requirements:
Computer and processor: 1 gigahertz (GHz) or higher, x86- or x64-bit. SSE2 instruction set processor
Memory (RAM): 1 gigabyte (GB) RAM (32-bit); 2 gigabytes (GB) RAM (64-bit)
Hard Drive: 3.0 gigabytes (GB) of free space
Screen: graphics hardware acceleration needs a graphics card with DirectX10 support and a resolution of 1024 x 576
Operating System: Windows 7, Windows 8, Windows 10, Windows Server 2008 R2 or Windows Server 2012
Package Composition:
Microsoft Office Professional Plus 2013 SP1
Microsoft Word 2013
Microsoft Excel 2013
Microsoft PowerPoint 2013
Microsoft Outlook 2013
Microsoft Publisher 2013
Microsoft Access 2013
Microsoft InfoPath 2013
Microsoft OneNote 2013
Microsoft Lynс 2013
Microsoft SkyDrive Pro 2013
Microsoft Visio Pro 2013 SP1
Microsoft Project Pro 2013 SP1
More details:
New features in Microsoft Office 2013:
Major improvements to Microsoft Office 2013 Service Pack 1:
Improved compatibility with Windows 8.1.
Improved compatibility with Internet Explorer 11.
Improving compatibility with modern equipment.
Provides new applications for office features and an API for third-party developers.
Provides support for task pane applications in Outlook 2013.
Provides the ability to insert and use application content in PowerPoint 2013 slides.
Assembly Information:
Languages : Russian, English, Ukrainian
Activation: AAct from Ratiborus
Extensions: Office Tab Enterprise, Ubit Menu
Command-line options for helper.exe
/ S / INSTALL - silent installation
/ PROX86 - installation of the 32-bit version of Professional Plus
/ PROX64 - installing 64-bit Professional Plus
/ WORD - install WORD
/ EXCEL - install EXCEL
/ POWERPOINT - install POWERPOINT
/ ACCESS - install ACCESS (not available in Standard version)
/ XSKYPE - installing SKYPE FOR BUSINESS (not available in Standard version)
/ INFOPATH - install INFOPATH (not available in Standard version)
/ OUTLOOK - install OUTLOOK
/ ONENOTE - setting ONENOTE
/ ONEDRIVEA - setting ONEDRIVE
/ ONEDRIVEB - setting ONEDRIVE FOR BUSINESS
/ PUBLISHER - installing PUBLISHER
/ XSTDX86 - Installing the 32-bit Standard
/ XSTDX64 - Installing the 64-bit Standard
/ WORD - install WORD
/ EXCEL - install EXCEL
/ POWERPOINT - install POWERPOINT
/ OUTLOOK - install OUTLOOK
/ ONENOTE - setting ONENOTE
/ ONEDRIVEA - setting ONEDRIVE
/ ONEDRIVEB - setting ONEDRIVE FOR BUSINESS
/ PUBLISHER - installing PUBLISHER
/ VISIOPROX86 - installing the 32-bit version of Visio Pro
/ VISIOPROX64 - installing the 64-bit version of Visio Pro
/ VISIOSTDX86 - installing the 32-bit version of Visio Standard
/ VISIOSTDX64 - installing the 64-bit version of Visio Standard
/ PROJECTPROX86 - installing the 64-bit version of Project Pro
/ PROJECTPROX64 - installation of the 64-bit version of Project Pro
/ PROJECTSTDX86 - installation of the 64-bit version of Project Standard
/ PROJECTSTDX64 - installation of the 64-bit version of Standard Standard
/ LANG = ID - choice of localization
where ID is the language identifier, for example RU-RU, EN- US, UK-UA
The parameter can be specified several times, the first language will be the main one
/ UPD - enable the installation of Office updates (can be changed later in the settings)
/ KMS - activation and creation of a re-activation task every 10 days
/ OFFICETAB - installation of Office Tab
/ UBITRU - installation of the Russian version of UBit Menu
/ UBITEN - installing the English version of UBit Menu
Examples:
helper.exe / S / INSTALL / PROX64 / WORD / EXCEL / POWERPOINT / VISIOSTDX64 / LANG = RU-RU / KMS
Installing the 64-bit version of Professional Plus with the applications WORD, EXCEL, POWERPOINT
Installation 64 -bit version of Visio Standard
Language Russian, activation
helper.exe / S / INSTALL / XSTDX86 / WORD / LANG = RU-RU / LANG = EN-US / UPD / KMS
Installing the 32-bit version of Standard with the WORD application
Language Russian (main) and English
Permission to install updates, activating
helper .exe / S / INSTALL PROJECTPROX64 / LANG = UK-UA / LANG = RU-RU / KMS
Installing the 64-bit version of Project Pro
Language Ukrainian (main) and Russian, activation
Checksums:
the x86:
the CRC32: 0BAA23F6
the MD5: 1D16903724130DCCFE9ED1F2B5248FE0
the SHA-1: 3946437E2F43E68382D6E5FA9913B2EDFE4D395E
x64:
the CRC32: C8D0D74B
the MD5: 165FAD31F79208430CA5F4C2A615D5B6
the SHA-1: A1407B26A8AC33CCB52C3FCBA1D955AC2F3AFF99
DOWNLOADuploadgigrapidgatornitroflare
Note:
Only Registed user can add comment, view hidden links and more, please register now